Genestra HMF Neuro Powder Probiotic (60 g)
Retail Price:
Vitasave:
$45.09
(Save 17%)
Genestra HMF Neuro Powder
HMF Neuro powder delivers over 12 Billion CFU per dose. Genestra offers HMF Capsules as a moderate level, maintenance probiotic formula. Genestra's HMF Neuro Powder provides Lactobacillus acidophilus, Lactobacillus paracasei and Bifidobacterium animalis subsp. Lactis which contribute to a healthy intestinal microflora. HMF Neuro Powder is the first probiotic specifically developed by Genestra for gluten and casein intolerant people including: Autism, ADHD, and Celiac Genestra's probiotics are human-sourced strains, proven in human clinical trials.
Benefits:
Specifically Developed By Genestra For Gluten And Casein Intolerant People
12 Billion CFU Per Dose
Includes L-Glutamine And Fructooligosaccharides
Helps Maintains The Integrity/Health Of The Intestinal Tract
Ideal For Vegans
Directions:
Recommended Adult Dose: In a glass, add water to one scoop (1/4 teaspoon) of HMF Neuro Powder and mix. Take two times daily with meals, at least two to three hours before or after taking antibiotics, or as recommended by your healthcare practitioner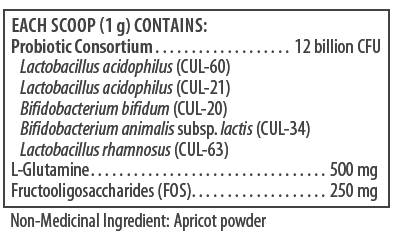 Directions:
Recommended Adult Dose: In a glass, add water to one scoop (1/4 teaspoon) of HMF Neuro Powder and mix. Take two times daily with meals, at least two to three hours before or after taking antibiotics, or as recommended by your healthcare practitioner